Our first performance was held on 9th August 2008 and was met with great enthusiasm by both performers and audience alike.

Since then we have held three concerts each year and the reaction from the audience is always fantastic. Apart from invited guests, family and friends the audience consisted of members of the public, relaxing with a coffee in the adjoining cafes and those waiting to see a performance in the Gordon Theatre.

Comments such as "Aren't they amazing, what talent" were often heard. Many people stayed and listened to the hour long event and the praise for the Young Musicians was outstanding.

We work very closely with the WMC to choose performance times which are mostly just before very popular shows. This ensures a lively audience and very good experience for our young musicians.

You can find a list of future concerts in the events diary.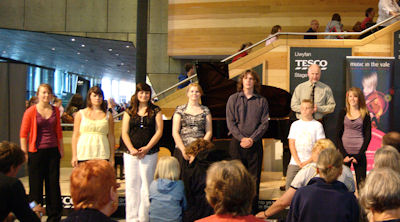 Music in the Vale is thankfull for the support of the official accompanists at these events.

WMC